Turbocharger, Supercharger & Ram Air for 2011 Audi A4
No.
Part # / Description
/ Price
Price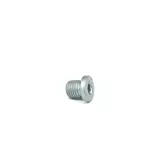 Cover Plate Screw
48 volt. 2013-2016. With hybrid. , seat back components. , drivers side. Cover plate,screw. 2.0L 2016-18 aux water pump, front. m8x16.
Exhaust Manifold
Turbocharger
A complete Turbocharger Assembly. Incl.Exhaust Manifold. Incl.Turbocharger. Included w/ : Turbocharger. Fits A4, A5, allroad, Q5 2.0 Liter. A4. A5. Q5 w/o Diesel. A5. A4. Q5. 2.0L. w/o Diesel. Incl.Turbocharger. Incl.Exhaust Manifold.
Oil Inlet Tube
Turbocharger Oil Line
Q5. A5. Supply. A4. 2012-15. 2013-2016. Allroad. With hybrid. 2.0L. Oil inlet tube.
Cover Plate
Turbocharger Mount Heat Shield
2012-15. 2013-2016. Convertible, 2.0L. Coupe, 2.0L. With hybrid.